SOD#87 HÆVNER – Kaldet Fra Tomrummet LP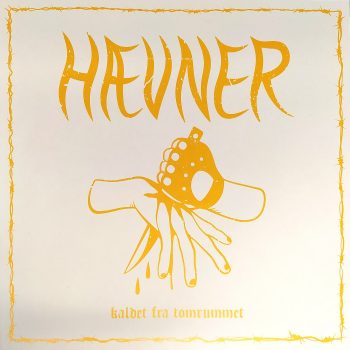 SOD#87
HÆVNER
«Kaldet Fra Tomrummet» – MLP
1st pressing 500 Black (10/2022)
Screenprinted cover (Gold Ink)
Insert + Download code
AVAILABLE 12€

Guitar / Vocal: Kasper Deichmann
Synth / Vocal: Ellisiv Berg
Bass: Bette Kurt
Drums: Johan Schultz
Recorded, Mixed & Mastered by Marcus Ferreira at No Master's Voice
Artwork & Layout by Kasper Deichmann
Screenprinted at Ol'Dirty Hands
REVIEW:
[DIY CONSPIRACY]
Inspired by visions of the dark, suffocating and all-consuming void, Hævner formed during the plagued year of 2020.
Still shrouded in a dark cloud of obscurity, there's not much information I can find on the group except the short press release from their label, which says Hævner features former members of other Copenhagen-based bands like Motorsav, Kold Front, Metro Cult, Moth, Sunken, and St. Digue.
haevner-band-square
In 2022, a lot of punks following DIY Conspiracy are probably well aware of the surge of post-punk bands in recent times. In what seemed like a swirling trend, there is a large number of really good bands (Spectres, Belgrado, Horror Vacui), but after so many records that stuck to the classic formula, post-punk, goth and new-wave revivalists might seem to, once again, have fallen into the doldrums.
However, and in spite of the critics, the DIY underground has been stirring with fresh ideas and many bands delve into experimental extremes (Diät, Clock of Time, Powerplant) or double down on the rawness and spiraling chaos (Education, Catholic Spit, Poison Ruïn), and speaking of the raw post-punk sound with dystopian leanings, today we have an uncanny entity out of Denmark called Hævner, who unleash their debut LP Kaldet Fra Tomrummet through the longstanding DIY punk label Symphony of Destruction.
DIY Conspiracy is proud to premiere Kaldet Fra Tomrummet on our site and spotlight a great new band with a wonderful future ahead of them. And without further ado, here is the record streamed in its entirety.
Kaldet Fra Tomrummet translates to English as "called from the void", which is a fitting title for their record. I couldn't write a thorough track by track review of the record due to the really short notice from the label. In short, Hævner is what can be described as a "raw post-punk" band, but that label frankly limits what they're capable of with their utterly chaotic and depraved music.
Their sound is indeed dark and hectic, hallmarked by penetrating guitar sound, throbbing bass and piercing synths, with desperate vocals dripping with anguish, and mouthing their melancholic lyrics in Danish. I still need a few more listens, but I think this despairing yet liberating, ice-cold yet passionate punk album is simply great.